1980 - FIRST STEP
Dallas Delta registers as a company
1981 - FIRST PRODUCT
The AMIGO loudspeaking telephone
1982 - AMIGO II
LCD with a 50 Speed Dial. First of its kind in Australia
1984 - BAT PHONE
The "Bat Phone" was a hot-line phone to the Russell Street Police station.
1985 - LIFT PHONE
First loud speaking LIFT PHONE to be installed Australia Wide
1992 - HYGIENIC TELEPHONE
Designed for clean rooms and labs
1995 - COMMUTER PHONE
Train platform commuter help phone
1999 - CST & SENTRY
Commonwealth bank 'Easy-Bank' using: CST (Customer Service Telephone) & SENTRY DOORSTATION was released
2001 - PUBLIC PHONES
Manufactured all the public phones for Fiji Telecom
2005 - SENTINEL
Sentinel Doorstation are a analogue telephone unit
2007 - GUARD DOORSTATION
Designed to fit in the space of a standard house brick
2011 - 3G/GSM
Released the 3G/GSM PHONE. Used in Polephones and Doorstations.
2017 - DISABILITY HELP PHONE
Installed on roadsides across Australian. The WeatherTough phone was fitted with a hearing loop and braille.
Established and respected provider of specialist communications equipment.
We design and manufacture our specialist communications equipment including: Door Stations, Intercoms, Entrance control systems & emergency telephone systems. 
Our aim is to supply customers with a quality product and great service for the life of their product. We believe in a good customer relationship which gives our clients the support they need in order to establish and build their business.
Key Benefits
Competence – We have a proven track record of exceeding customer expectations and manufacturing products that last in the field under extreme conditions.
Capability – We design and manufacture all our products in-house.
Standards Compliant – We ensure our products conform to the required standard of each project.
Low Total Cost of Ownership – Our products are reliable and have a high MTBF rating. With our vandal resistant panel designs and our weather resistant enclosures to protect the mechanical components, Our products have been proven reliable and time tested since our establishment in 1980.
Assurance of Supply – We manufacturer our own products and have the necessary infrastructure to design and produce our PCB's using our pick and place machines.
Competitive Prices – Our purchase prices compare very favourably and when combined with the long-term reliability and serviceability of our units the total cost of ownership is substantially lower than our competitors.
Responsive – We work closely with our clients to deliver our products and services in a timely manner.
Over 30 Years Experience – We have a proven track record as manufacturer of affordable, durable and standards compliant telecommunications products.
Bespoke Product Design & Development – Our team of design engineers thrive on the challenge of developing custom solutions for our clients.
In-house Manufacturing – We manufacture all our own designs in-house. A Full SMD PCB assembly line. This ensures a high level of quality and responsiveness to client needs and if required all our products can be repaired in-house. We service units that are well over 10 years old.
Fast Turn Around – Since all our design and manufacturing is carried out in-house, we can offer a fast turn around on our products and services.
Quality – ISO 9001:2008 certified company.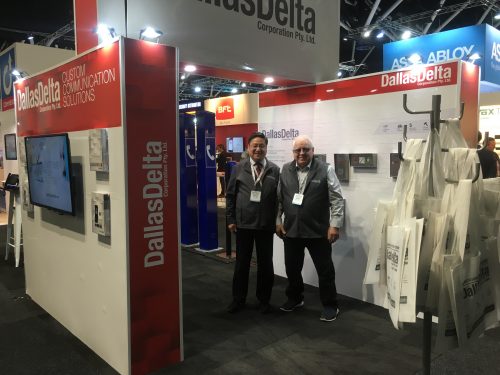 Product Updates
Thank you to everyone who visited the Security Expo in Sydney. It was great catching up with you in person.
Read More »